Excalibur 4926T 9 Tray Food Dehydrator – Available in Black or White
Make your own continuous supply of healthy dried snacks – fruits, vegetables, lunch box snacks, sprouted crackers, yogurt, meat jerky and much more!
Take advantage of Free postage on Teflex sheets and & The Dehydrator Bible (if sent at the same time as the dehydrator) (Teflex sheets are reusable and are required for semi-liquid food such as fruit purees.  They are an optional extra and do not come with the Excalibur.)
Why Dehydrate
Drying is easy
A wide variety of fresh foods can be dried: fruits, vegetables, fish and meats. These foods can be eaten dried for snacks and parties, or reconstituted for cooking and baking. Drying is easier than canning or freezing: you simply wash, slice and load food onto the dehydrator trays. Within hours your foods are dried and ready to eat or store.
Drying can save you money Owning an Excalibur dehydrator allows you to purchase and dry foods in peak seasons when prices are lowest – a great saving compared to the high cost of commercial dried products. Best of all, operating a dehydrator costs only cents a days and dried foods don't require continual electricity to be maintained as with freezing.
Dried foods taste great and are nutritious
As food dries, natural food flavours and sugars tend to concentrate – giving dried foods a sweeter and stronger burst of flavour than fresh foods. Dried foods are nutritious, too! Drying preserves important nutrients that cooking often destroys. And since you don't add sugar or other additives, dried foods make delicious and healthy snacks for your family.
The Excalibur dehydrator is reputed to be the best dehydrator for preserving the nutrient & enzyme levels of living foods.The best technique for retaining the enzymes is to set the Excalibur on 40ºC setting throughout the entire cycle. That way the food temp will never go above 48ºC even after it is dry.

Dried foods store easily
Dried foods take up less space than canned or frozen foods because when you remove the moisture, food shrinks in size. They store in any convenient airtight container or pack and are lightweight – just right for lunchboxes, backpacks or camping trips.
Parallexx drying system
The fan, heating element, and adjustable thermostat are mounted in the rear. Cool air is drawn in the back, heated up, and distributed evenly across each tray.
During the dehydration process, warm air removes moisture from foods and is pushed out the front of the machine.
The Excalibur Dehydrator has Exceptional Performance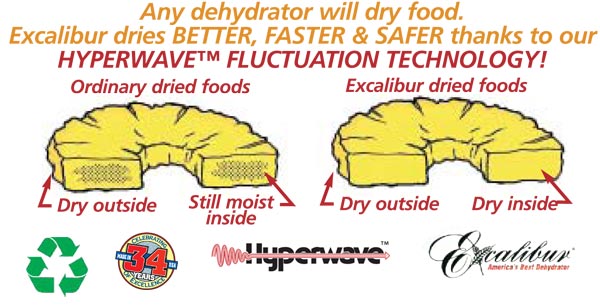 Excalibur dries BETTER, FASTER & SAFER thanks to our Hyperwave™ Fluctuation Technology
Ordinary dehydrators produce constant, unchanging heat causing "case hardening," a dry surface with moisture trapped inside — a perfect environment for yeast, mold, and bacteria growth.
Excalibur's Adjustable Thermostat lets you take advantage of Hyperwave Fluctuation (changing heat through the drying cycle) for faster, better, safer dried foods.
As the temperature fluctuates up the surface moisture evaporates. Then as the temperature fluctuates down the inner moisture moves to the drier surface.
The food temperature stays LOW enough to keep the enzymes active, and the air temperature gets high enough to dry food fast, overcoming yeast, mold, and bacteria growth and spoilage.
Excalibur is a #1 choice of many homeowners, small businesses, universities and restaurants worldwide
"A walk in the park" compared to canning! Here in Vermont, apples are plentiful and inexpensive in the fall. Although I 'put up' apple sauce, canning is labor-intensive. Dehydrating apples, by comparison, is sheer joy. We use dried apples for snacking, baking pies, and cooking. I dry home-grown herbs, too. Dehydrated foods are easy to store in plastic bags and the whole process is a 'walk in the park' compared to canning. I love it!
Nancy Williams, VT
The World's Best Selling Dehydrator!
The Excalibur has earn't its reputation due to its physical design, engineering quality, broad versatility, and reliable performance.
With the adjustable Hyperwave™ thermostat and removable trays, you can dry just about anything!

We supply the

4000 Series,

the picture shown is for illustration purposes only
The adjustable thermostat lets you fine tune to the exact temperature you need